June 20th, 2019:
So, as you can probably imagine by now, THERE. WE. WERE.
Our suitcases were upstairs, tightly packed and (miraculously) zipped, and we had twin taxis scheduled to pick us up at 10:30 a.m. for our 1:15 p.m. train. We were headed to Paris and I was fully intending to have bread at every meal.
The prospect of taking what my sister began calling the "submarine train" from London to Paris was a little unnerving. But we were all excited and I couldn't wait to see it in action…
…so naturally, I fell asleep.
When I woke up, we were in Paris.
I'll admit, this nap was a little more off putting than most. It's one thing to wake up in another country, it's a whole other thing to wake up in a country whose first language is not your own.
Our group waded through the crowds at the train station, trying to figure out where we could go to find information on where we should go. Then, after some thorough footwork by my dad and Aunt Tracy, and the help of a nice French man who spoke English, we all purchased metro tickets.
Now, I'm not here to start any arguments, but I will say that the Paris metro is, just, well, not as great as the tube in London. We packed our way in, trying not to run over any French feet with our suitcases, and kept our eye on the map, counting down the stops until our own.
Once we were off the metro and back above ground, we trekked through the streets of Paris in search of the Adagio, and when we arrived we were surprised to find we'd been given a room with THIS view:
After the shock of that (kind of) wore off, food was obviously our next priority. So as soon as we were unpacked and freshened up, we were back out on the city streets, soaking in the Parisian sun with arms outstretched and smiles spread wide.
Le Pareloup came recommended by Google, and if I could recommend anything it would be the egg mayonnaise, which are hardboiled eggs cut in half with mayonnaise on top. YUM.
After dinner, as the sun made its final descent into the horizon, we walked to the Eiffel Tower, which was only a mile or so from our hotel. On our way there, we stopped at a pop up pastry shop and ordered waffles and froyo, and then took a seat on the lawn and waited for the magic to start.
Once the sun was officially down (at around 10:00 p.m.), the Eiffel Tower, who we immediately started calling "Eif"—because yes, we nickname everyone and everything—started to glow a deep yellowish orange We oohed and awed and took around 1000 pictures, and then settled in for part two.
Then the wind started to pick up.
Dressed in our sun soaking clothes, the breeze came as an unwelcome surprise. We began to bundle and huddle and pace, counting down the minutes until 11:00 p.m., when Eif would really shine. And though it was tough. Though we were shivering and chattering and all out whining for the time to just move faster, the moment that clock struck the hour and Eif started to sparkle, everything else kind of melted away.
We sat in stunned silence, all of our eyes reflecting the glistening lights and we smiled.
Oh my gosh, I thought to myself. This place, this tower, this city, it's real. It's real, I'm real and I'm here. I'm actually here.
.
June 21st, 2019:
Our first morning in Paris started early. Making our way back to the train station, we grabbed a light breakfast at Starbucks and then boarded the train to Epernay.
Located in northern France, Epernay is known for its champagne houses, including Moet Chandon. My Uncle Bruce and Aunt Tracy are huge champagne drinkers and had long considered visiting Epernay a bucket list experience. So we'd booked a tasting tour with Moet Chandon at 4:45 p.m., but decided to get to Epernay early so we could take our time and explore the city beforehand.
Our first stop was breakfast.
We found Le Khedive on our walk into the city from the train station, and upon taking a seat at a large table outside, our waiter placed this sign next to our table:
The petit dejeuner, "breakfast", consisted of a hot beverage (tea or coffee), a glass of orange juice, a croissant, and two pieces of bread with butter and jam. So, you know, basically everything good in life.
Almost everyone at our table ordered the petit dejeuner, and to go along with it, we ordered two bottles of champagne. Because you know what they say, "when in France, eat carbs and drink champagne—even if it's 10:00 a.m." And for the rest of the day, we did just that.
Time moved both slowly and quickly as we sauntered up and down the streets of Epernay, stopping in at different champagne houses for tastings.
We went to Collard Picard, where we sat on the back patio pretending we were sipping champagne in the countryside of France—oh wait, WE WERE.
We went to Paul-Etienne Saint Germain, where we divided into groups and ordered three, three glass tastings that each included detailed descriptions and specifically instructed tasting orders from the host, and after each round we would vote on our favorites and cheer when we liked the same thing.
We went to Michel Gonet where we began talking a little louder and laughing a little easier and when we ordered a second round of tasters the host misunderstood it as seven bottles to purchase and we had to kindly decline his beautifully wrapped bottles of champagne.
By the time we made it to lunch, we were all feeling champayHEYHEY, if you catch my drift, and we binge ate our food as if it was the last meal we'd ever be given in our lifetimes.
(in case you're wondering what "champayheyhey" looks like)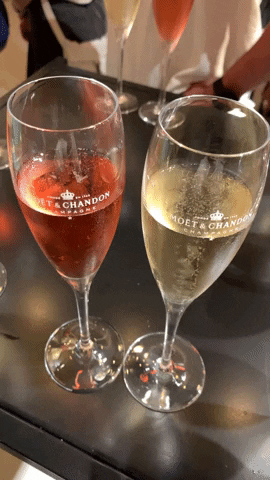 From there, we headed to our 4:45 p.m. tour with Moet Chandon, where we got to learn a little history about the champagne industry that we'd been ever so supportive of during our day in Epernay. With two more samples there, we capped off our afternoon and walked back to the train station to board our train home.
Since the wind was blowing even harder that night, we decided to forego a visit to Eif, even though he was looking ever so handsome as we passed him in the Uber ride back to our hotel. Instead, we decided to close out our day of elegance and sophistication in the best way we knew how: ordering McDonalds for delivery.
As I sat in my sweatpants eating my Egg McMuffin at the table in our hotel room, looking out at our expansive view of the city, I thought to myself, damn, this is luxury. And then I ate one too many french fries, and went to bed.
---
Read Day 10 & 11 here.