Note: Throughout the entirety of this mini vacation all rules were followed, restrictions were taken seriously, and masks were worn when required, so please don't come at me. I just want to tell you about a pretty place I went and how I ended up with bruises on both of my butt cheeks.
.
August 20, 2020
After being picked up at the Salt Lake City airport late Wednesday night, I woke up on Thursday morning to a Park City sun shining on the pillow of a comfy bed, tucked under a warm blanket as a cool breeze came in through my open window. If you're from Southern California (like me) or somewhere else where words like "breeze", "blanket", or "open window" are completely foreign and borderline triggering during this onslaught of August & September heat, you'll know how much happiness these things brought to even the earliest moments of my day.
Having planned this trip to Utah over two months earlier, unsure of the potential travel restrictions or outside access we might have, my sister and I felt blessed to simply be somewhere other than our living room. Honestly, we would have embraced just sitting in a different living room if the laws prevented us from doing anything else. But, thankfully and mercifully, we were allowed to go exploring outside. Before we did that however, I did one of the inside things I'd wanted to do for oh. so. long.
I got a haircut.
Sitting in the chair at the salon, I asked the stylist to chop off the four or five inches that had grown down my shoulders since March. And as she went to work, talking on and off about the anxiety she was feeling about her daughter returning to school that morning, I couldn't tell who was more excited about the haircut.
"Oh my gosh, this is happening, this is so exciting!" she said as my brown hair began to fall on the floor around me. I think it was therapeutic for both of us. I felt like I was chopping off the mop that quarantine built, and she was chopping at her anxiety snip by snip.
Next on the agenda, we piled into the car and headed to Willow Heights Trail, which would not only serve as a welcome to Utah but a welcome to *elevation*. Having spent a good amount of time in elevation while training for Whitney, I was less nervous than I might have been otherwise, but that didn't mean 8,000 feet didn't make itself known.
Hello, it said, take your time.
And so we did.
After walking a mile or so to the lake at the top, we sat down on a few rocks to enjoy the lunches we packed. Within a few seconds however, a female duck and her eight ducklings came swimming and then charging up the bank towards us, squeaking and quacking and opening their beaks, waiting for us to toss them some scraps.
Were they cute? Yes.
Was it weird and strange and utterly delightful to be approached so closely by ducks? Yes.
But did it get old pretty fast, especially when they started pecking at our shoes and following us around in a way that suggested that at any minute they might go into attack mode and kill us? YOU BETTER BELIEVE IT.
This is when they gave up on us and returned to the water to commence hiding in plain sight until their next victim arrived.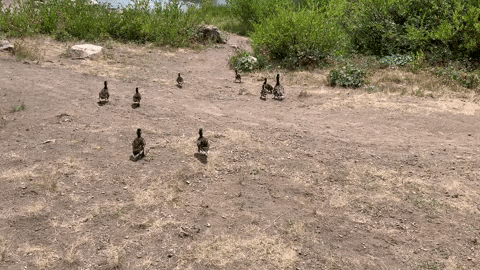 After our hike, we stopped in on a waterfall, and the headed to Normal Club ice cream to have our lives casually changed forever.
To finish off the day, we headed to a spot on the Weber River to fish. And while we gave it our best effort, our perseverance, our sweat, and, in my case, a little bit of blood thanks to my biggest catch of the day being my own finger, all but one of us came up empty. But it's hard to be mad when this is your view.
.
August 21, 2020
Knock knock.
Who's there?
It's me, elevation!
First thing Friday morning we headed to the Uintas (pronounced you-in-tuhs) to hike Bald Mountain, which had a starting elevation of 10,500 feet. I felt a little nervous heading into the hike, wondering if perhaps my sea-level life was going to catch up to me eventually, but aside from a few friendly reminders from my lungs not to laugh too hard, talk too loud, or burst into occasional song as I like to do, the hike went relatively well. The trail was rocky, and at times felt like walking up a long flight of uneven stairs, but small steps—and for the faint of heart or fearing of heights, a close eye on the ground rather than the long way down—were the key. I got to the top feeling very accomplished, and a little mischievous. Which is perhaps why, alongside this photo of the view:
I also took this picture, while saying, out loud, "my dad is going to hate this":
From Bald Mountain we drove to Trial Lake and set up camp on the muddy banks to spend the afternoon fishing. Feeling a little let down by the previous day's success, I threw a line in without big expectations, and instead stared off into the distance and let myself think.
Throughout the day we had been talking a lot about the future. What we want to do, and where we might want to live (other than California). And with everything going on in the world and in my own life, I felt like I hadn't had time to consider questions like these in a long time. But with the quiet of the lake and the tangible space offered up by the trees and water and sky—not to mention the complete lack of cell service—I felt like I finally had the time. Not about what I had to do today or what I should do tomorrow, but what I was doing and how I was feeling in that very moment. It was almost overwhelming—having the freedom to just exist—and it stirred up a lot inside me that I hadn't even known was there. It also brought back some of my luck. In the three or so hours we were there, I caught seven fish, including this guy, who is the prettiest fish I ever did catch.
On the way home, we stopped at "The Notch" for dinner, where we ate burgers and sandwiches, had some wine and beer and Kentucky mules, and talked about the day, about some favorite memories, and about how small this great big world is sometimes. Then we drove back and went to bed early, all of us spent in the way only a good, full day can make you.
---
Read Day 3 & 4 here.