Last Monday my little brother turned 21 years old. To celebrate, we did what many have done before us: go to Vegas. While the idea wasn't necessarily original, we were determined to make the weekend one of a kind.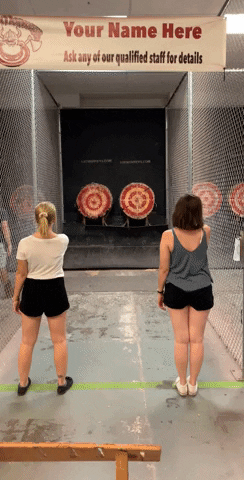 So, on Friday afternoon, as our navigation finally ticked down to those last final miles and we saw the strip come into view, we sat up in our seats and got ready to kick this thing off right. How, you might ask? By hurling axes.
Okay, technically throwing axes, but when you're handed an axe and the freedom to launch it at a target, you dig deep and channel any dormant rage that might have been previously unaddressed, you take the recommended lunging step, and you hurl the damn thing.
After an hour of therapy axe throwing, we made our way to our hotel for the weekend: the Palazzo.
Three quick notes on the Palazzo
A beautiful hotel with luxurious suites that make you feel wealthy—and include buttons that make the curtains open and close so when you jump and clap you are reminded that you are not.
It's located towards the end of one side of the strip so many of the other hotels are a bit of a walk, which can be good and bad. Good because you get your exercise in and walk your alcohol off, and bad because your bed is so far on your walk back at three in the morning.
Did I mention the curtain buttons?
Being his very first time in Vegas, we thought the best way to introduce Troy into its universe was to give him the chance to lose some money. So after dropping off our bags we headed down to the casino to teach him how to do just that.
He learned that slot machines are not something you understand, just buttons you push and cheer when they light up; he learned that sometimes machines speak to you and sometimes losing is inevitable; and he learned that drinks in the casino are free. (That last one really floored him)
That night, after a quick and easy dinner from the food court, the six of us freshened up and got dressed for our first evening out in Vegas. Troy's outfit was the easiest, because it was assigned to him: a white t-shirt that said "It's my 21st Birthday!" on one side, and "SIGN ME!" on the other.
Call back to what could have been a great joke: his outfit was asSIGNed to him.
Moving on.
If you ever go to Vegas for a birthday, bachelor/bachelorette party, or any other specific celebration, I highly recommend this T-shirt experience. Not only does it take away the responsibility of choosing what to wear, it also gives you the opportunity to meet and interact with a wide variety of people. Also, is there a better social experiment than seeing what people decide to write when handed a sharpie by a stranger? No. No there is not. By the end of the weekend, Troy's shirt was adorned with advice, names, questionable drawings, and just plain incredible one-liners.
Troy's 2nd assignment of the weekend was bingo.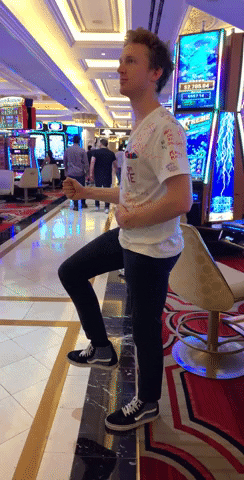 My cousin Spenser made this card with tasks that Troy had to complete in order for each square to be crossed off and ultimately create bingos. In the event of a bingo, someone had to take a shot. Some of my personal favorites to witness were "do the Captain Morgan pose for 1 minute", which resulted in some very confused looks from the passerby, "get a picture with a fellow ginger", which was completed when we ran into a group of incredibly welcoming Irish people, and "get a blackjack", which Troy managed to complete in three hands at the blackjack table.
While not included on the bingo card, we also made sure to get Troy a Fat Tuesday, just so he could say he's had one, and he diligently carried it around for the remainder of the night.
When Troy was in Kindergarten, his class had a stuffed animal named Ruby the Rhinoceros and each week one of the kids got a chance to take Ruby home. Throughout the week, the kids would document all the adventures they took with Ruby and then bring her back and show the class. As we walked around Vegas and I saw Troy carry that Fat Tuesday, I thought of Ruby. I thought about Troy taking his Fat Tuesday back to class on Monday and telling everyone about the hotels they toured together. About the casinos and showgirls and drunk guys yelling, "WOOO" for no reason. About O'Shea's bar where we played beer pong. Or the slot machine where Troy won most of his money back and two strangers came up and high fived him. What a show and tell that would be, huh?
Anyways.
Around 4:00 a.m. we turned in for the night (morning?) and if I remember correctly, my last words before falling asleep were, "I can't wait to eat tomorrow!" So clearly our priorities were still firmly in tact.
At 11:30 a.m. the next same morning, we sat down to eat at the MGM Grand Buffet. I for one felt like I could have eaten the table, but I didn't because French toast was also an option. We hung out, ate, and talked about the comparative size of the human brain and the human heart while sipping mimosas, as you do, and then we made our way over to Top Golf.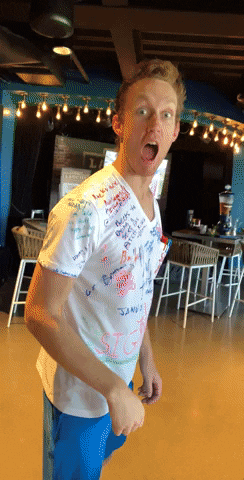 Since it was almost 1:00 p.m. and a ripe 108 degrees, the wait for a bay at Top Golf was only 30 minutes, so we put our name in and walked over to the bar area, where we came across a beer pong table. Cut into a hexagonal shape, there were six beer pong pyramids that would allow three games of one-on-one beer pong to be played. We could have done that. However, being the true innovators we are, we invented what will now forever be known as Assassination Beer Pong, in which all six players compete at once. Look for it on shelves soon—and when you find it let us know so we can sue for copyright.
Once our bay was ready, we played an hour and a half of golf. And while we probably won't be competing at The Masters anytime soon, the free birthday donuts Troy was comped were, dare I say, a hole in one. #golfjokes.
We spent the rest of the afternoon gambling and snacking, and then around 8:30 p.m. we sat down at Beer Park, a rooftop bar and grill where we ate burgers, played Uno and watched UFC Fight Night—a very strange yet fulfilling combination.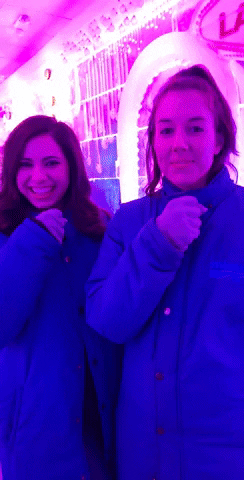 From there we headed to the minus5 Ice experience at the Venetian, where we were given parkas and gloves and led into a (literally) freezing room with tables, benches, and thrones all made of ice. We ordered drinks that came in cups made of ice, and Troy did a luge shot that involved him sucking the alcohol through a straw as it traversed down at block of ice. It is a small room, but the experience is what you make it. We had an absolute blast, and my cousin Amanda and I tried our hand at on site reporting, which we're assuming will get us an audition for ABC.
That night, after a doing a few more rounds in the casino at our hotel, most of us were ready to turn in. But with only a handful of squares left on his bingo sheet, Troy and Spenser headed to Caesar's Palace. When they arrived at our hotel room only a short while later, we were surprised, but not nearly as surprised as when we heard that Troy's bingo sheet had gotten them kicked out of Caesar's! In what appeared to be a case of a grumpy security guard, Troy was able to cross off a bingo square we didn't even know he'd need.
As we loaded up the car the next day, we all had that familiar Sunday in Vegas feeling: tired, but chock full of new stories to tell. I can only hope we're still telling them years from now—most likely arguing and embellishing and interrupting each other with finite details, but always in the end, being able to sum it up with five lasting words: it was a good weekend.