June 22nd, 2019:
It would take a long time for me to ever get used to sleeping in, yawning and looking out the window of my hotel room to see Paris, but with the warm welcome it had given us over the last two days, I looked out at the already sunny city, tipped my imaginary, bed head filled hat, and said good morning.
There were no concrete plans on the agenda today, just nine people ready to see the city and their iPhones ready to help them do it. So we set off from our hotel and walked down the streets of our new temporary neighborhood to O Coffee.
Since the group of us was so large and the restaurant was so small, we were met outside by the kind, Australian owner, who offered to take our order and prepare it for takeaway. We got five avocado toasts, four banana breads, a few coffees, a couple orange juices, and an apple juice, and then the owner threw in some madeleines for us to try. Everything was absolutely delicious and I could not recommend this place more.
As we ate, we came up with a plan:
Starting at the Arc de Triomphe, we would walk down the Ave de Champs Elysees to do some shopping and sightseeing, and then follow the Seine River all the way up to Notre Dame. It was a three mile walk that we figured would be more like five when we added in browsing steps, but we were ready and the day was beautiful and so we finished our last bites of breakfast—and I spilled most of my apple juice—and then we were off.
The Arc de Triomphe is probably one of the most beautiful things I've ever seen. Built to honor the lives lost in the French Revolution and Napoleonic Wars, it is imposingly stunning. It is also the center of one of the scariest intersections I've ever seen in my life.
The Champs Elysees reminded me of Rodeo Drive in Los Angeles. Huge designer stores lined the street and they tempted you to come in and spend money you definitely didn't have. At one point we walked into a Sephora that made me say, "I can't believe we haven't reached the back yet." On top of that, the street was freckled with beautiful greenery, including this little patch that I actually volunteered to have my picture taken in.
The Grand Palais, while we didn't go inside, was gorgeous and made me want to go to Rome, and the Petit Palais made us all laugh because the phrase "small palace" is one that both contradicts itself and doesn't exist in our day-to-day vocabulary. If I ever make my way back to Paris, I will go inside these beautiful museums, but for this day, we fell in love just looking at them.
The Pont des Artes, the "bridge of arts", is most famously known for the love locks people used to clip to its chain link. In 2015, all of the locks were removed because they were too heavy for the bridge and were causing parts of it to crumble. This however, has not stopped people from clipping locks to other bridges. On our walk, we came across a bridge named the Passerelle Léopold-Sédar-Senghor, which has started to collect locks of its own.
The Louvre was something my museum loving heart was over the moon to see in person. After seeing pictures of it and hearing references to it for my entire time as an undergraduate art student, actually finding myself in front of it's famous pyramidal structure was pretty surreal. We didn't go inside, but only because we decided to save that for the next morning when we could buy tickets in advanced and skip the lines. But since the courtyard was so pretty and the nearby restaurant, Le Café Marly, came so highly recommended, we decided to have lunch there.
I ordered what had become a favorite of mine in French cafes, a croque-madame, which is a fried ham and cheese sandwich with a fried egg on top. I didn't take a picture of any that I ate, but to give you an idea of this true gift to humankind, please look at this photo from this recipe on foodnetwork.com:
Sainte Chapelle was one of the only places that we took the time to stand in line and go inside to see, and I'm so glad that we did. I had heard that it was a beautiful church, but nothing really prepared me for how beautiful. We walked around on the first floor thinking it was amazing, but when we climbed the stairs to the second floor the line of us gasped in a row like dominoes. I was speechless.
Notre Dame, while tragically having been damaged in a fire not long before we arrived, was still gorgeous. Even as someone who doesn't know nearly enough about its history and the grandeur that it has held in the city for so many years, my heart ached looking at the large pieces that were missing and the construction that was going on trying to repair it.
As a final stop to cap off our day, we walked to Berthillon ice cream. It came recommended from a friend of my aunt's, but it was clear when we got there that this was no well-kept secret. Multiple shops holding the same name were open mere meters from each other, and all of them had lines out the door. I got one scoop of dark chocolate and one scoop of salted caramel (because #saltedcaramelforever), and while they were delicious, I was bummed by the shop's "no free samples" policy and I still think about the fig ice cream I left behind. #I'llneverfig-etyou
Now, I understand this next part might bring shame/judgment/open mouth gapes but I'm here to say that we did it, we don't regret it, and we would 100% do it again.
That night, after getting back to our hotel and showering, napping and freshening up, we went…back to McDonalds for dinner. I know, I know, we're in Paris, what are we doing at McDonalds two nights in a row? And to that I say: LIVING.
I will tell you right now, Parisian McDonalds is better than American McDonalds and there is absolutely no way you can change my mind. After having an iconic egg mcmuffin the night before, my sister and I both ordered the goat cheese chicken wrap and then I ordered a Kit Kat McFlurry. I mean, how dare you, Paris. How absolutely dare you.
We then walked back to Eif and took a seat on the lawn to watch him sparkle. Because what else can you do when you've had a wonderful day besides end it with a dose of pure magic?
.
June 23rd, 2019: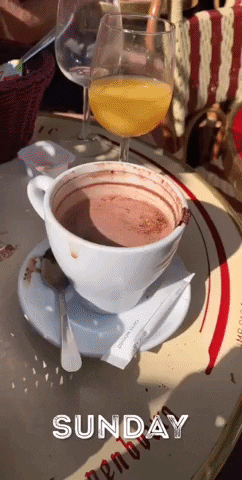 For our very last day in Paris, we woke up a little early and immediately made our way back into the city.
Since we hadn't truly experienced a Parisian sidewalk café, we took a seat at Café de la Comedie and took in the beautiful morning. My sister and I ordered the breakfast special which was the equivalent of the petit dejeuner we had in Epernay and I was in absolute bliss.
From breakfast we walked over to the Louvre, where I'd purchased nine tickets online the night before. NOW, listen carefully here because apparently this is a mistake that people make all the time.
In buying nine tickets, I apparently flagged us as being a "group"—as a note, this label is given to any amount of people greater than six—and as a group we were apparently required to be assigned a guide and were supposed to meet said guide in the "group reception area". So when we got in line and our tickets didn't work, we were sent to this area where a man behind a desk told me there were no guides and it would be impossible to get one and I should not have bought "group tickets" if I did not want a guide. Oh, and also my tickets were non-refundable and that he couldn't do anything to help.
First of all, no.
Second of all, if this happens all the time, don't you think that's an issue you should deal with, Louvre?
Third of all, we're in Paris, I paid good money for these tickets and I WILL be going inside.
Needless to say, after walking up and down the stairs a few times and talking to four or five different people, we were eventually let inside. And was it worth it? YES.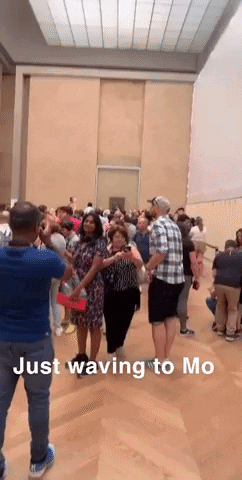 I was floored by both the art and the museum itself. Once I was in and amongst the work, my frustration with the (clearly poorly designed) website and the (not nearly as helpful or sympathetic as they could have been) staff, melted away. I also got to say hi to Mo, though she seemed a little busy with some other fans at the time.
From the Louvre we headed to lunch at an Australian café called Café Oz and it was…well, a conundrum you might say. The menu was a hodgepodge of options including burgers, risotto, and chicken parmesan—all of which we ordered by the way—and they had a picture of the All Blacks (the New Zealand national rugby team) on the wall, which is practically a sin in an Australian themed bar. Like I said, a conundrum.
For our very last night in Paris and the very last day of our trip, we decided to go out in style. We had 8:00 p.m. reservations on a Seine River Cruise and we'd paid €5 extra for front row seats—which was totally worth it! For an hour and a half we glided along the river, seeing the sights from a whole new angle, and seeing the people of Paris enjoying their evening as much as we were.
We saw friends chatting and laughing and comforting one another. We saw couples sharing snacks and smiling and staring off into the setting sun. We saw people walking and running and biking and salsa dancing. We'd all had a different day, and yet we were all here, in Paris, watching the same sunset, so that we could wake up again tomorrow and start over.
As sad as we were for our trip to be over, we were happy to be going home. It was going to feel good to be back in our own world, in our own homes, in our own beds and get back on our own schedules. But as we watched the Eiffel Tower light up for the final time that night, I took note of all of the people around me. Maybe some of them would be leaving tomorrow too. Maybe others had only just got here. Maybe others just moved here and others still had lived here their whole lives.
No matter our stories, no matter our backgrounds or our likes or dislikes, we were together in that moment and we were sharing the awe of the Eiffel Tower. And even if none us would ever see each other again, there was still something special about that moment. It was our own little piece of history that we'd always share. Just like our trip will be something that the nine of us will always share. In the grand scheme of things, these 11 days will be a blip, but to us they will mean the world. And at the end of the day, it's about remembering those moments because those moments are the world.