We are about two weeks into Spring Training, and about two weeks away from the start of the regular season, which has my baseball loving heart soaring. I am once again approaching my happy place: when the notifications on my phone are primarily game scores and player updates, when evening plans can easily be made when my team has a home game, and when frustration with work, life, etc. can be expressed through angrily shouting at poor decisions made by a manager, and terrible calls made by an umpire.
Baseball is BACK, my friends, and since I wrote this post a couple years ago listing my favorite things about football, I thought it was about time I did the same for my favorite sport.
.
1) The Season(s)
Since baseball starts in the spring and ends in the fall, the weather is usually pretty glorious, no matter where you might be watching. Sure, it rains sometimes and occasionally gets cold when the sun goes down, but for the better part of the season, baseball gives you the best weather, and calls for the most casual, comfortable clothes in your closet.
.
2) The Environment
On average, a baseball game is a minimum of three hours. For some people, this is too long, but for me, it is perfect. Baseball gives you time to relax. To both watch and chat with friends. To eat and drink and laugh and sit in complete, unawkward silence as you listen the sounds of the game, as well as contribute a few of your own. Depending on your home stadium (and how often you go) you are likely to learn a series of "clapping cheers" that the sound booth will cue multiple times throughout the game. Having gone to games since I was little, I was unaware how brainwashed trained I was until I brought a friend to a game who was unfamiliar with baseball, and she asked how she was supposed to know when to clap. I looked at her, bewildered, unaware that it was something I had learned rather than something I was born knowing.
.
3) The Food
Again, the specifics on what you will find depends on where you are and what stadium you are visiting, but no matter what, baseball brings out some of the best food in the world.
*pauses for backlash*
*pauses again to signify that I have no interest in arguing this point*
If you don't believe me, believe Humphrey.
.
4) Collective Cheering & Booing
One thing I think we can all agree on is that we, as a world, need to be more united. On grand scale issues, yes, on humanitarian issues, of course, but it can start with the small things. That being said, if you are looking for unity, you'd be hard pressed to find a greater display than that from passionate baseball fans disagreeing with a call that could cost their team the game, or rising to their feet in an effort to cheer their team to victory.
.
5) Web Gems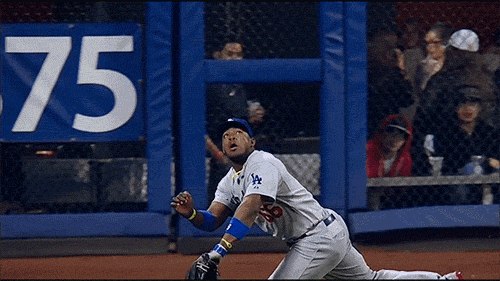 During the season, many sports news outlets create weekly top 10 countdowns of amazing plays, called "web gems." This is where you see the best of the best in catches, throws, and plays—where fans can agree that this is why they are paying them the big bucks. Do we drastically underestimate how hard the rest of the game is, and thus how impossible these web gems actually are? 100%. But do we give ourselves a break because we have high expectations and can barely afford to buy a second beer? Also, 100%.
.
6) Bloopers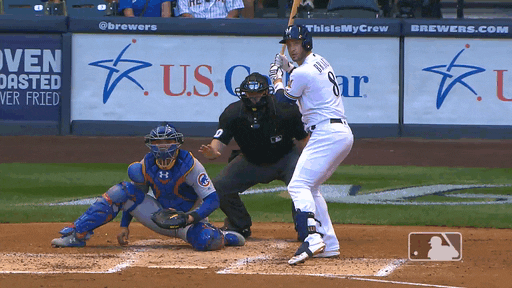 On the other side of things, there are also roundups of goofy mistakes made by the players, be it a fall, a drastic miscommunication, or a ball lost in the sun. Personally, I think these demonstrate what most of the population would look like if we tried to play baseball at a professional level, which is why we find these bloopers funny and even endearing, because it's a reminder that these elite athletes are still human.
.
7) Bottom of the 9th, reach for the stars, over the fence, World Series kind of thing
In the classic 1995 Olsen twin film, It Takes Two, this statement is used to describe the feeling of true love. While I adore and respect that usage, I also love its roots. Every baseball player dreams of the once in a lifetime opportunity to become a hero in the 9th inning of a World Series game. Whether that be hitting a home run, making a game winning catch/play, or striking out the last batter of the game. I love that baseball is a game that allows anyone on the team be a hero. Take Kirk Gibson in Game 1 of the 1988 World Series, who hobbled to the plate—with two injured legs—to pinch hit, and ended up hitting the game winning home run.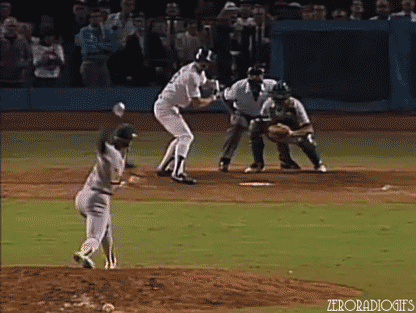 .
8) The Nicknames
Like any sport, when a player you like steps into the game, you want to cheer for them, and in cheering for them, you end up coming up with nicknames—sometimes multiple for each player. I would say, at minimum, my family and I have about three nicknames per player, which is useful, because it's a long season, and sometimes you need to mix it up.
.
9) Social Media
A newer addition to this list is the social media presence of teams—especially my team, but I realize I'm biased. I love getting a behind the scenes look at the team. It allows me to better get to know the players and borderline consider them my friends and/or family members. This does make my cheering for them and the outcome of their games much more influential on my overall happiness than it should be, but it's fine. It's fun. I love it. And it is glaringly obvious how attached I am to this content when the off-season comes around and my Instagram feed is a barren wasteland.
.
10) Dodger Stadium
Last and the furthest thing from least, Dodger Stadium. This is not only the home of my favorite team, but truly one of my favorite places in the world. I can't definitively say that it is the best stadium in the world, because I haven't been to all 30, but even if had/when I do, I know that Dodger Stadium will forever be my favorite because it is where I grew up and where my team plays.
.
Go Dodgers!