Hello and welcome back to another edition of All the Good Things, a monthly series where I highlight all the good things (get it?) that happen in each 30-day (or so) span. I hope it can be a reminder that amongst all the well known bad, there is a lot of undercover good happening in our world.
Let's dive right in
.
1) Following their Super Bowl win, Chief's lineman Derrick Nnadi paid it forward
.
2) These plane passengers threw an impromptu baby shower for a family who was flying home with a newly adopted baby.
.
3) This dog made a big jump.
.
4) This man built houses for feral cats to keep them warm in the winter.
.
5) J-Lo & Shakira crushed the Super Bowl halftime show.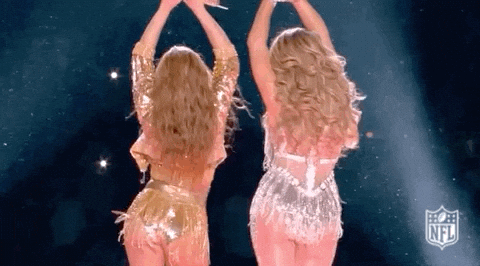 .
6) This man got an incredible gift.
.
7) 30,000 pounds of leftover food from the Super Bowl was donated to shelters.
.
8) These girl scouts set up shop outside a weed dispensary and sold hundreds of boxes
.
9) This man showcased his INCREDIBLE talent.
.
10) This huge Wolverine fan met Hugh Jackman.
.
11) This woman found her dog after three years (by seeing his picture on a beer can mentioned in last month's post!)
.
12) This boy rescued his sister and the family dog from a fire.
.
13) Once Upon A Time in Hollywood's Julia Butters showed up to the Oscars prepared.
.
14) This woman donated her kidney to her mentor, and then he gave her a beauty salon to thank her.
.
15) Denmark turned a mountain of trash into a ski hill.
.
16) This baby cracked up.
.
17) Delta pledged to become the first carbon neutral airline.
.
.
19) LeBron paid tribute to Kobe.
.
20) Rick Moranis announced he is rebooting Honey I Shrunk the Kids.
.
21) This astronaut was reunited with her dog after 328 days.
.
22) Dunkaroos announced a comeback.
.
23) This Zamboni driver subbed as an emergency goalie and got his first NHL win.
.
24) This veterinarian walked around and treated homeless people's animals for free.
.
25) This friend went above and beyond:
.
26) These plane passengers waited patiently to help a dad make his twins' father-daughter dance.
.
27) This:
.
28) This straight-A student gave up their bonus points to help lower scoring students.
.
29) And finally, this 100 year old woman, born on leap day, celebrated her 25th official birthday.
.
Wanna know the best part? There is SO much I didn't include.
I can't wait to see what March brings!
You can view the last edition of this series here.